Drumming up Hope

Live performance date and related information:

Essence Edition:
TenDrum official channel | Youtube Channel 1:https://www.youtube.com/watch?v=y86Hgc2Br1c&feature=youtu.be
Youtube Channel 2:https://youtu.be/kq3rCYLtNuA
Date | Friday,May 22, 2020
Time | 09 :00 P.M. to 10:15 P.M. (CST)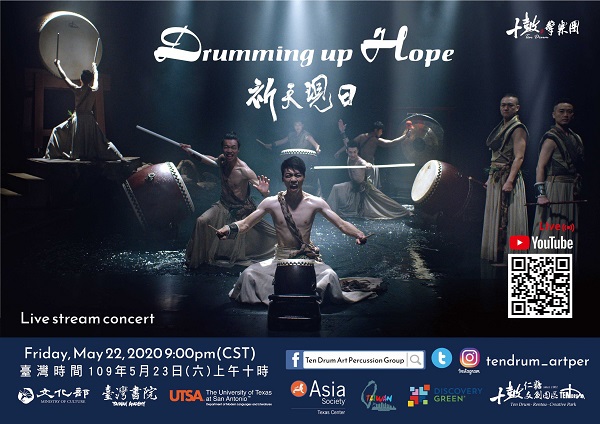 More information and the Live Stream Videos about the performance of 2020 TenDrum Art Percussion Group &
Cross metal Band
-「Drumming up Hope」on May 22, please see the followings: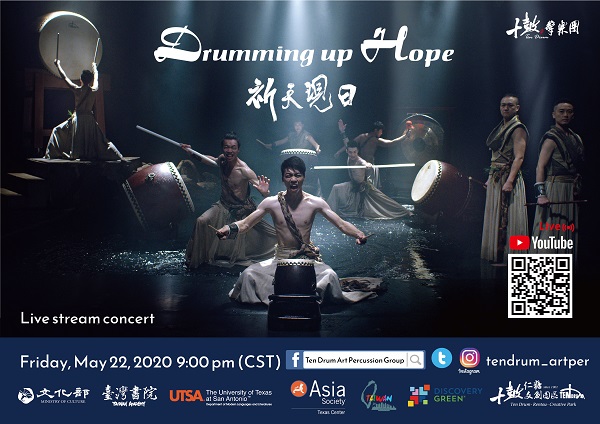 Live show name: Drumming up Hope
Introduction
The Ten Drum Art Percussion Group, a percussion band based in Taiwan, will lead the 75-minute family-friendly musical performance. The presentation promises a feast of lights and sounds, with artists beating man-size drums as the centerpiece. The concert will be live streamed on YouTube and Facebook while the group performs in
real time in Taiwan. Audiences in Texas, the U.S. and around the world are invited to this special performance.
TECO in Houston partnered with Discovery Green and Asia Society Texas Center to bring Ten Drums to audiences in the U.S.
"We are thrilled to collaborate with Discovery Green and Asia Society Texas Center to bring this concert to Texas," said Peter Chen, Director General of Taipei Economic and Cultural Office in Houston. "Music has the power to heal and bring comfort, especially during difficult times. We wish to dedicate Ten Drums: Drumming up Hope to the hardworking healthcare professionals, first responders and essential workers who kept the rest of us safe. They are the true heroes of this fight against the pandemic."
During the time facing the challenge of darkness, a drum group from Taiwan will play a dual role to interpret darkness (Cross Metal) and brightness (Ten Drum) at the same time and bring you through the dark night to the mysterious and hopeful Formosa. Under the blessing ¸ we will lead you to get acquainted with this island which is full of culture, nature and love and share the power of life of this land. By drumming, let's pray for the sunlight through the darkness and greet the first light of hope.
Performance track
1.
The Space of Dark Phoenix
(
It is adapted from The Flying of Phoenix originally composed
)
2.
Sunlight of Thunderbolt
(
It is adapted from Reappearance of Thunderbolt.
)
1.
18 Arahans Drum
2.General Order
3.
White Deer Running, Sun Moon Lake Shinning
4.Victory over Chained Horses
5.Celebration with Drum and Dance
6.Sky Slash
7.Amused Cock
8.Thunderbolt
Performers
Cross metal Band

​

HSIEH CHIA-MING

HSIEH HUAI-CHUEH

LIN WEI-TING

YANG KUAN-YU

HSIAO YU-NO

SU YI-CHENG

CHI WEI -ER

CHENG EN-YU

LIANG SHAO-CH

​

Ten Drum Art Percussion Group

HSIEH YU-EN

HUANG YU-TING

SZU TU CHUNG-CHIEN

LI YI-YING

HUANG CHIH-CHUAN

SHIH CHUN-YAO

KUO CHIH-TING

SU YU-HSIEN

LIN MENG-WEI

CHIANG CHIEN-HSING

CHU CHEN-CHIN
臺美跨海線上直播『祈天現日』音樂會
活動當日直播影片與消息請見以下連結: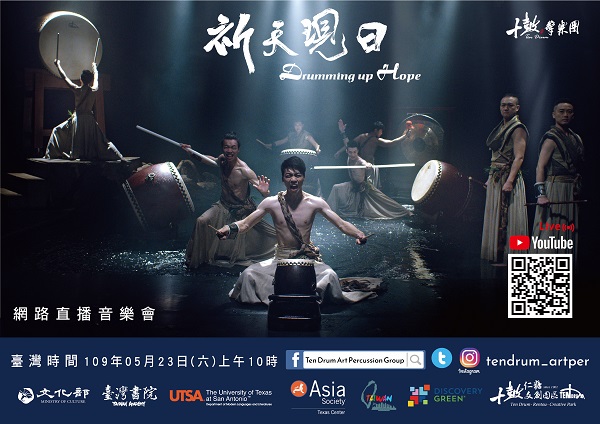 觀賞官方預告片,
請點我
節目名稱:
【

祈天現日

】
演出精華版相關資訊:
十鼓文創官方Youtube 頻道1:https://www.youtube.com/watch?v=y86Hgc2Br1c&feature=youtu.be
線上直播 Youtube 頻道2:https://youtu.be/kq3rCYLtNuA
演出直播日期及相關資訊:
日期:2020年05月23日
直播時間:上午10:00-11:15
節目簡介:
在面臨如黑暗般挑戰的動盪時代,來自台灣的一支鼓樂團將分飾兩角(手合及十鼓),同時詮釋黑暗與光明,將帶您穿越黑夜來到充滿神祕及希望的福爾摩沙之島,以《祈天現日- Drumming up Hope》的祝福,帶領您認識這片充滿人文、大自然與愛的島嶼,分享這片土地的生命力,藉由鼓樂來為世界一起祈禱,撥雲見日迎接曙光!
演出曲目:
1.玄鳥之域(改編自鳳邑埤塘)
2.雷霆現日(改編自雷霆再現)
1.十八羅漢鼓
2.點將令
3.逐鹿躍動~映明潭
4.大破連環
5.鼓舞歡慶
6.天空斬
7.吹牛雞
8.雷霆交鋒
演出人員:
謝家茗
謝懷珏
林威廷
楊官諭
蕭宇諾
蘇奕丞
齊偉爾
鄭恩宇
梁劭齊
謝宇恩
黃友廷
司徒仲謙
李意瑩
黃志荃
施竣耀
郭芝亭
蘇育賢
林孟緯
姜建興
朱貞瑾
新聞連結 News:
1.中華民國文化部: https://www.moc.gov.tw/information_250_110834.html
2.駐休士頓台北經濟文化辦事處:
https://www.roc-taiwan.org/ushou/post/6468.html
3.中央社:
https://www.cna.com.tw/postwrite/Detail/272639.aspx#.XsOb9mgzaUk
4.自由時報:
https://ent.ltn.com.tw/news/breakingnews/3170828
5.引新聞:
https://innews.com.tw/6829/
6.自立晚報:
https://tw.news.yahoo.com/%E5%8D%81%E9%BC%93%E6%93%8A%E6%A8%82%E5%9C%98-%E7%A5%88%E5%A4%A9%E7%8F%BE%E6%97%A5-%E8%87%BA%E7%BE%8E%E9%80%A3%E7%B7%9A-041506778.html
7.國立教育廣播電台:
https://tw.news.yahoo.com/%E7%96%AB%E6%83%85%E5%BD%B1%E9%9F%BF%E5%8F%96%E6%B6%88%E8%A8%AA%E7%BE%8E-%E5%8D%81%E9%BC%93%E6%93%8A%E6%A8%82%E5%9C%9823%E6%97%A5%E7%B7%9A%E4%B8%8A%E6%BC%94%E5%87%BA-033546182.html
8.勁報:
https://times.hinet.net/news/22908870
9.大媒體新聞網:
https://today.line.me/tw/article/%E5%8D%81%E9%BC%93%E6%93%8A%E6%A8%82%E5%9C%985+23%E8%87%BA%E7%BE%8E%E9%80%A3%E7%B7%9A%E7%9B%B4%E6%92%AD%E3%80%8A%E7%A5%88%E5%A4%A9%E7%8F%BE%E6%97%A5%E3%80%8B%E9%BC%93%E8%88%9E%E4%BA%BA%E5%BF%83-V9YDYl
10.EZ優游網/藝文漫步:
https://www.uuez.com.tw/application/news/view?newsId=2144
11.中時電子報:
https://www.chinatimes.com/realtimenews/20200522003135-260405?chdtv
12.自立晚報:
https://tw.news.yahoo.com/%E5%8D%81%E9%BC%93%E6%93%8A%E6%A8%82%E5%9C%98-%E7%A5%88%E5%A4%A9%E7%8F%BE%E6%97%A5-%E8%87%BA%E7%BE%8E%E9%80%A3%E7%B7%9A-041506778.html
13.台灣TB新聞網:
http://tbnews.com.tw/arts/20200520-22476.html
14.台灣英文新聞:
https://www.taiwannews.com.tw/ch/news/3936735
15.工商時報:
https://m.ctee.com.tw/livenews/ch/ctee/a81256002020052214155895
16.聯合新聞網:
https://udn.com/news/story/7326/4577599
17.更生日報:
http://www.ksnews.com.tw/index.php/news/contents_page/0001375704
18.府城人語新聞網:
https://tainantalk.com/20200521-2/
19.民時新聞社:
https://times.586.com.tw/2020/05/360148/
20.焦點時報社:
https://focus.586.com.tw/2020/05/20/p133072/
21.美美動傳媒:
https://jin1688.blogspot.com/search?updated-max=2020-05-20T03:28:00-07:00
22.柿子日報:
https://www.persimmon-daily.com/26368260322603232862/3982467
23.勝利之聲廣播電台:
http://www.e-go.org.tw/victor/news_detail.asp?CateID=1&NewsID=39445
24.勝利之聲廣播電台2:
http://www.e-go.org.tw/esound/news_detail.asp?CateID=1&NewsID=39445
25.勝利之聲廣播電台3:
http://www.e-go.org.tw/e-go/news_detail.asp?CateID=1&NewsID=39445
26.勝利之聲廣播電台4:
http://www.e-go.org.tw/tnyouth/news_detail.asp?CateID=1&CateName=&NewsID=39445
27.勝利之聲廣播電台5:
https://www.facebook.com/VradioTainan/
28.主持人你好我如如:
https://www.facebook.com/jujutainan/
29.中央社: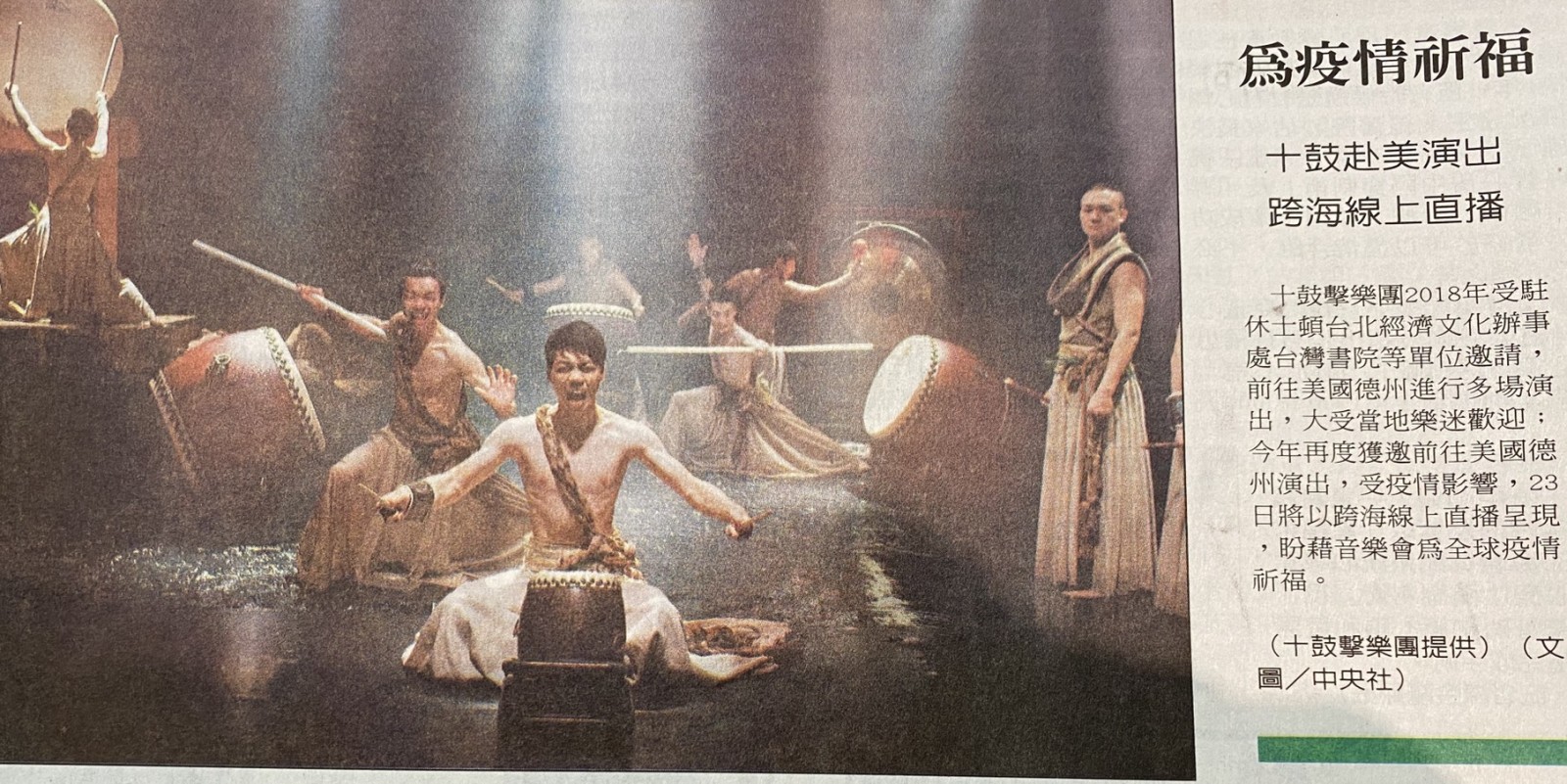 30.中華日報: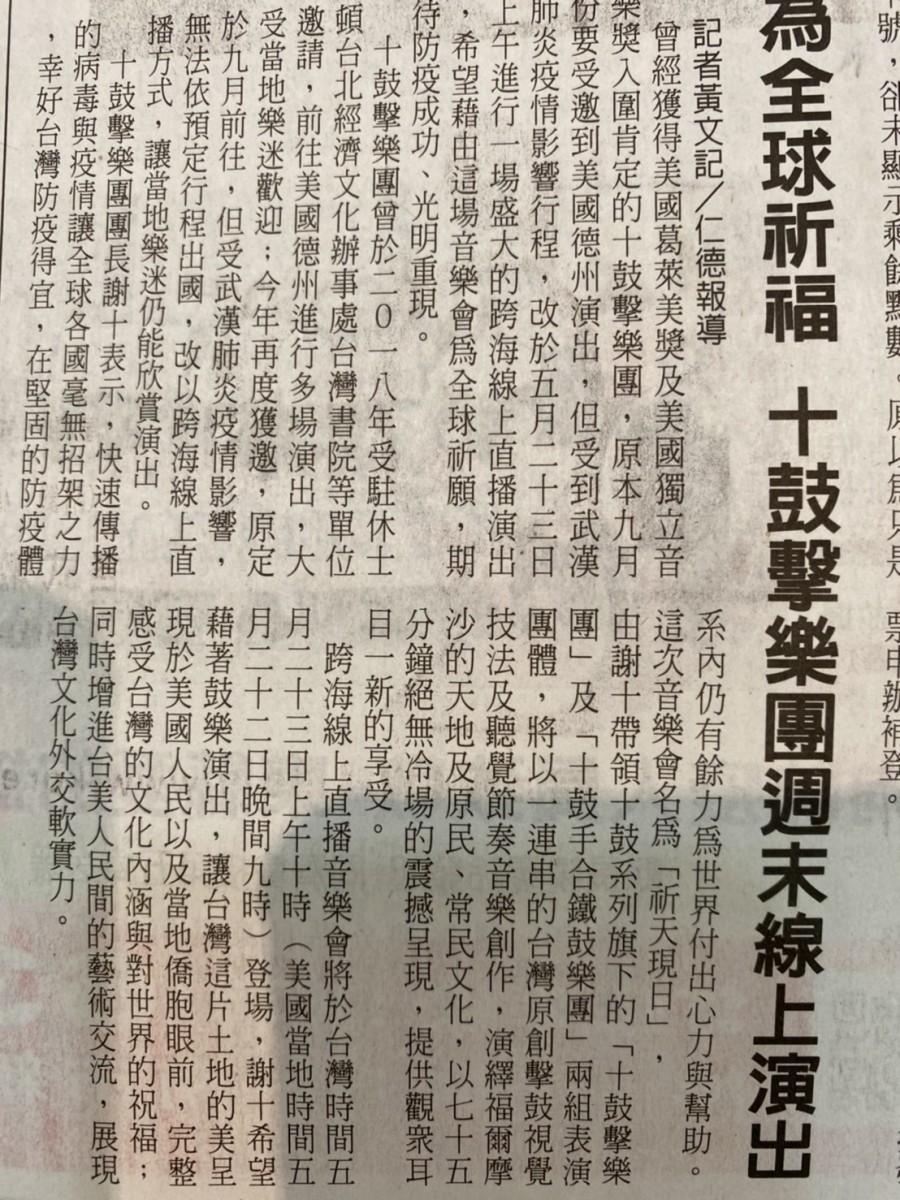 31.澳門訊報藝評(周凡夫):
https://www.facebook.com/1511612119105024/posts/2626929187573306/